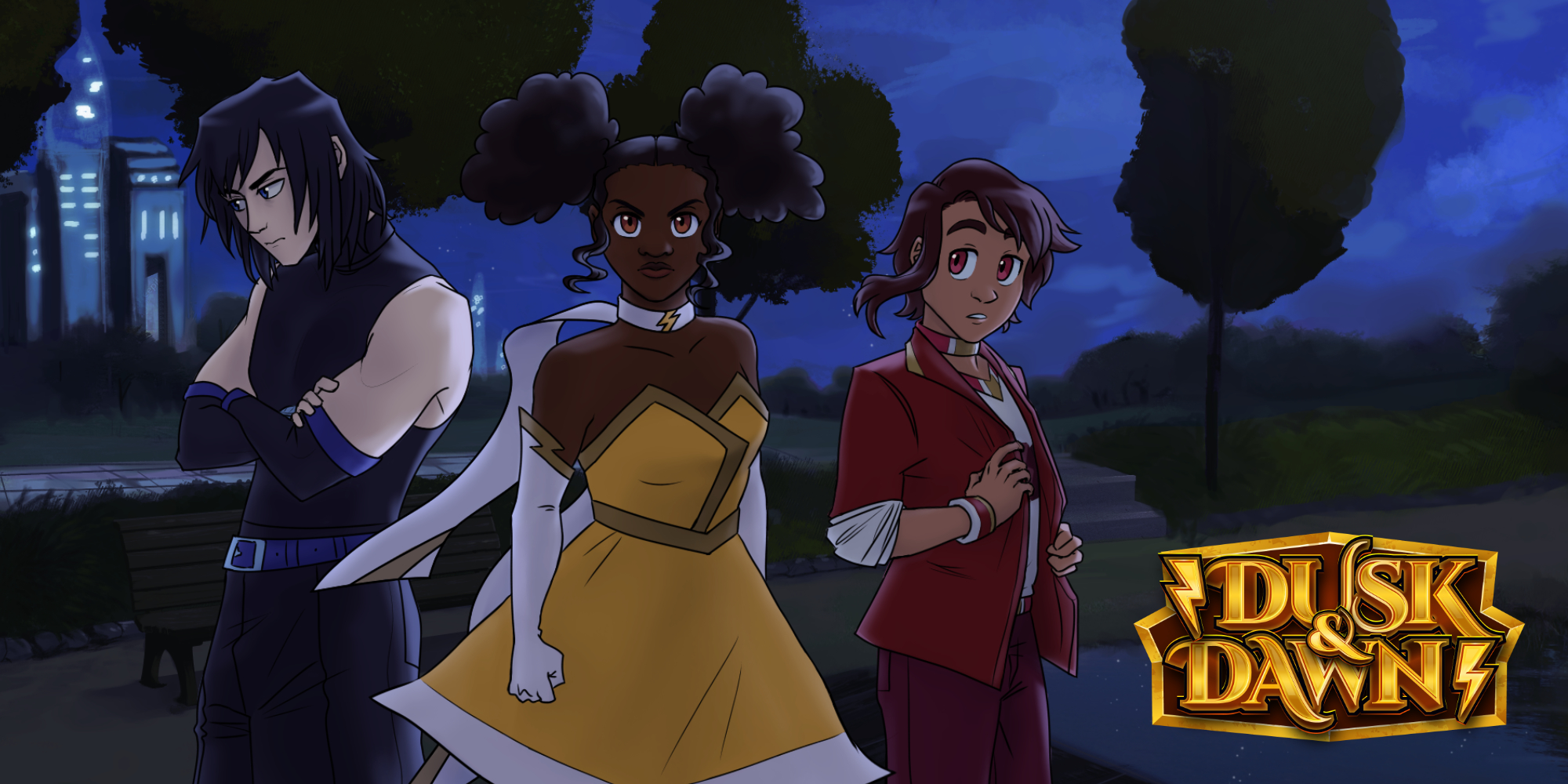 Dusk&Dawn
A downloadable game for Windows, macOS, and Linux
Will you remain a superhero or become a villain?
By day, Rene Garcia is a normal economics student. By night though, she is a member of a superhero team called Dusk, going by the alias "Bolt". Along with her friends Bastion ("Stoneman"), Alicia ("Frostbite"), and Mia the hacker, she goes up against the notorious villains of team Dawn. However, she soon finds herself entangled in a strange and unexpected companionship with Dawn's member Shadow. Or is she more attracted to her friend Bastion? When Rene realizes that Dusk and Dawn may not be what she thinks they are, will she remain a hero or become a villain herself?
Content warning: swearing
Features:
Hero or villain? Don't want to play as a superhero? Turn to the dark side and become a villain. Either path is a worthwhile way to play the game.
Experience romance! Romance enemy team member Shadow or your friend and fellow superhero Bastion.
3 hours of fun. The script is 32k words long and will take 3 hours of average reading time to fully experience.
Fully voiced script. Nine voice actors have banded together to breathe life into the characters, lending them their voices,
Gorgeous art. 8 character sprites, 2 cgs, and 10 backgrounds. The artists have worked hard to make the game visually pleasing.
A custom soundtrack. 8 amazing songs from our composer, Milo Rehm.
Every sound covered. The game is complete with all the sfxes needed to fully experience the fights of our superheroes and villains.
Credits:
Director, Writer: Anna 'Lavinnia' Kończak
Writer: Tim Don Tran
Editor: Eleanor Anwen
Programmers: Alex Itsios, Dimitris, buhnahnah
Character Artist, Character Designer, Main Menu Art: Naoki Murdock (SlicedTomaato)
Character Designer: Atelier Solstice
CG Art: Aloe
Background Art: Lidia "Asobinge"
Music: Milo Rehm
SFX, Dialogue Editing: FordAudioDesign, Julia Konarczak
Logo Artist: dr_design96
Voice Actors:
Rene: Shakyra Dunn
Bastion: Allen Chan
Samuel: Devin Lawrence Wright
Magno: Josh Portillo
Mia: Sam Slade
Snapshot: Ariana Rosario
Alicia: Clover Wren
Matilda: Savy DesEtages
Extras: Jett Barker, Dustin Vuong Nguyen
Special thanks:
Lyricist: Heather Koenig
Duskitar
Tiffany Witcher
| | |
| --- | --- |
| Status | Released |
| Platforms | Windows, macOS, Linux |
| Rating | |
| Authors | Lavinnia, Funigami Games, SeerofWords, Milo Giraldo, Okmops |
| Genre | Visual Novel |
| Tags | 2D, Fantasy, Female Protagonist, Otome, Romance, Story Rich, Superhero, supernatural, Superpowers |